25 Jan

Wellness Makes the Agenda At the World Economic Forum
Healthy Living involves creating and maintaining health: a state of complete physical, mental and social well-being – not merely the absence of disease or infirmity – World Economic Forum's Healthy Living Initiative
When you think about the 100s of global leaders convening in Davos, Switzerland this week, wellness may not be the first topic that comes to mind. Yesterday for the top global leaders of government, business, and academics converged for The World Economic Forum Annual Meeting, and healthy living made the agenda. The WEF released the Charter for Healthy Living Report in conjunction with the annual meeting. It revealed that over the next two decades non-communicable diseases (NCDs), also known as chronic diseases, are expected to cause a global loss of $47 trillion.
From the report:
Barriers: Barriers include changing global trends, increased risk factors and various social pressures.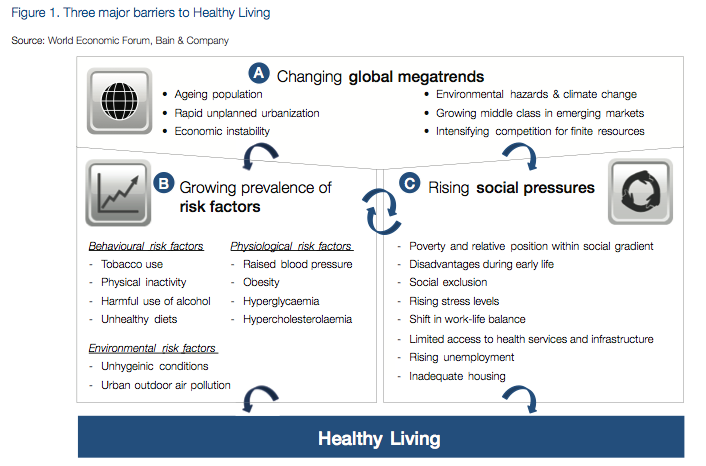 Stakeholders: Stakeholders come in varied forms from government, to consumer facing products, industry, advocacy, and more.
The WEF annual meeting took the first step in a very long process by creating awareness and demonstrating impact. Today's top global leaders all agree- health is a fundamental human right, and a driver of economic development.
BRG appreciates being aligned with brands that are playing a role in this evolving definition of wellness as we shift from simply treating illness to healthy living and prevention. By placing a global spotlight on well-being and showcasing the price of not acting to address chronic disease, WEF started an important dialogue for change.
We salute the public and private stakeholders that are taking early strides, and are supporting long-term views about healthy living. We know solving these issues will take time, resources and innovative and countless hours from people and companies looking to make a difference. We hope that the work of these stakeholders translates into innovative collaborations that help.