09 Jul

Social Media Usage Statistics You Need To Know [Charts]

Earlier this year, the Pew Research Center released their annual Social Media Update, which reveals the latest social network usage statistics. We utilized data from Pew's report and created comparative charts to answer some common social media questions we are asked.
What social networks do adults on the Internet use most?
Facebook continues to lead the charge as the most-used social network (71%), though user adoption has not expanded since last year. Pinterest and LinkedIn tie at second place with 28% of Internet users frequenting the platforms.
What age groups are most active on social media? Where are they active?
People in all age groups are active on social media. Facebook continues to be the most adopted social network across all age groups. It's interesting to note that Instagram is very popular among the younger set, and the 65+ age group is the second largest adopter of Pinterest.
Where are men most active online? Where are women most active online?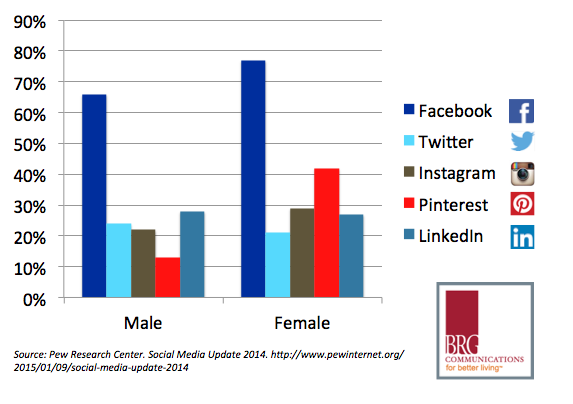 Women are a little more active in social media than men. Both men and women gravitate to Facebook, but women have a stronger preference for the photo-centric networks Pinterest and Instagram. Both men and women have almost equally adopted LinkedIn.
Where can specific ethnic groups be reached on social media?
While the Pew data doesn't provide information for all ethnic groups, it does provide insight into where the African American and Hispanic communities participate on social. After Facebook, African Americans and Hispanics show affinity to Instagram, whereas Caucasians participate more on Pinterest.
Where can I reach people in heavily populated or rural areas on social media?
Again, Facebook is the most adopted social platform across population areas. One interesting standout: LinkedIn is used more often in urban and suburban areas, and Pinterest is more widely adopted in rural areas.
We hope this information helps you as you dip your toes into social media or move forward with existing programs.
(To see Pew's entire report, click here.)
You might also like: