19 Dec

Holiday Giving With a Social Spin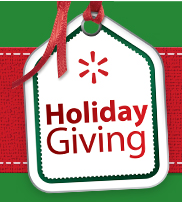 What happens when the largest corporate foundation asks Facebook users to nominate nonprofits from their community for the chance to receive part of $1.5 million during the holidays? It's a crowdsourcing win.
What is Crowdsourcing?
The act of sourcing tasks traditionally performed by specific individuals to a group of people or community (crowd) through an open call – Wikipedia
12 Days of Giving
For the third year, we've had the honor of working with Walmart and the Walmart Foundation on their "12 Days of Giving" campaign. As part of their overall charitable holiday giving this year totaling $19 million, Walmart is committing $1.5 million in grants to locally-run nonprofit organizations that are making a difference in their communities. Instead of picking nominees themselves, they put a social spin on the campaign. In November Walmart asked Facebook users to nominate their favorite local nonprofits by sharing 200 words about the nonprofit along with an image or video.
Facebook fans were encouraged to nominate local nonprofits in 12 categories, as follows: Fighting Hunger, Building a Brighter Future, Supporting Our Senior Population, Providing Clothing, Helping Communities Rebuild, Overcoming Crisis Situations, Providing Housing and Shelter, Supporting Our Troops, Rising Above Adversity, Lending a Helping Hand, Doing It All, Honoring Our Heroes.
Keeping it Local
One of the powerful things about this campaign is that it's about helping local organizations- ones you've probably never heard of. Think about it- who prepares a meal at a soup kitchen, works at shelters, and organizes clothing drives? Local community members, right?
It was important for us to let those hard working community members, and those who have needed help now or in the past know about the campaign. By nominating a local nonprofit, a person could demonstrate thanks for the organization and people that helped them personally or one that has made a difference in their community.
Wow did Walmart get nominations. Over 5,400 people went to Facebook within one week and nominated local nonprofits they love.
Local and National Results
In the first week of the program, when we opened the call for nominations, we pitched the story on the local level focusing media outreach on 22 specific communities. We think it's important to share customized and newsworthy stories with reporters, so for each market, we provided one or two spokespeople from the area along with some bigger newsworthy ideas.
We were able to place stories announcing the donation in each of the 22 markets we pitched. But that wasn't all. Throughout the week the story was picked up on everything from local morning shows to national print and online news. We were especially excited when the 12 Days of Giving story was picked up by USA Today and The Chronicle of Philanthropy.
The Take Home Lesson
Promoting social media campaigns with traditional public relations is important. Traditional public relations tactics spread awareness beyond the Internet. Press releases, news stories and interviews activate people that wouldn't otherwise take note of a Facebook campaign.
Go Check Out the Winners!
We really think you should head over to the Facebook page between now and the 23rd if you're looking for some stories of good will to boost your holiday cheer. Share the stories with friends, too, if you're so inclined.