06 Feb

Second Screen Opportunities: What They Are, And How Brands Can Use Them

Increasingly people are watching television while multi-tasking on a second or third device. In some cases people watch TV and read the news, use a mobile application to play a game, or talk to their friends on a social network. The second screen, otherwise known as the companion device, is a reality and an opportunity. If you are a public relations or social media pro working for a brand, the time to pay attention to the second screen is now.
Second screen stats worth knowing:
Twitter conversations spike during real-time events
Real-time television events (that people would rather watch live than DVR) usually generate a lot of conversation online, especially on Twitter. Many people find that talking about the event with others enhances their viewing experience. The first presidential debate, for example, generated 10 million Tweets in 90 minutes. The Olympics resulted in 150 million Tweets. The Super Bowl resulted in 52.5 million Tweets. Consistent with the second screen stats above, 30% of those Tweets were about the ads.
Brands should be prepared for second screen opportunities
The Super Bowl is a great example of a real-time event and serves as a good case study for how brands can use the second screen. It's no secret that some people love the Super Bowl ads as much as, or more than the football game. Many brands, especially those with commercials containing hashtags, made sure their social media teams were at the ready to engage in real-time during the game. We saw those brands participating in Twitter chats like #brandbowl, promoting tweets containing the ads after they aired, and partaking in fun banter during the game.
The super brand opportunity: The Super Bowl blackout
You've probably heard that there was a 35-minute power outage in the third quarter that caused a game delay. During the blackout Audi, Walgreens, MLB and PBS all got some heavy shares for their quick wit:
Oreo's real-time response stood out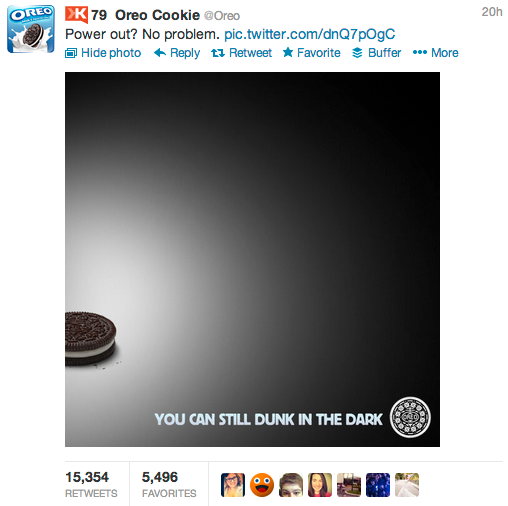 The Oreo Tweet was funny, on-brand, visually pleasing, and incredibly fast. Within moments of posting, it was on fire.
Takeaway for brands: Be online during popular (relevant) real-time events
Brands can take notes from Oreo's success. These kinds of moments don't always happen. When they do, brands can benefit if they react in a way that is relevant to the brand in real-time. Oreo was able to get their dunk in the dark ad out so quickly because they had a control room set up to monitor the online discussion, and an executive team on hand to approve the image and copy. In addition to the ad, they also put out a handful of humorous text-only Tweets. Did they have the social media staff on hand because they also had a traditional commercial? Possibly.
Imagine for a moment that this was a brand that didn't have the budget to buy a commercial. What if that brand had their social team engaged during the event? Time and wit could have been the only ingredients needed for real-time success on the second screen.
Fun fact: Oreo gained 7,700 new followers during the Super Bowl alone.
Participate strategically
Your brand doesn't have to participate in every real-time event to have success with the second screen. Partake in real-time conversations that are relevant to your brand or your target demographic. Ensure that you will have access to decision makers during the event to help you get your posts out as quickly as possible. If you come to the conversation with pre-planned messaging, it will help you and your team better handle positive and negative feedback on the spot.
Tell us in the comments: Have you participated in the second screen as an individual or on behalf of a brand?