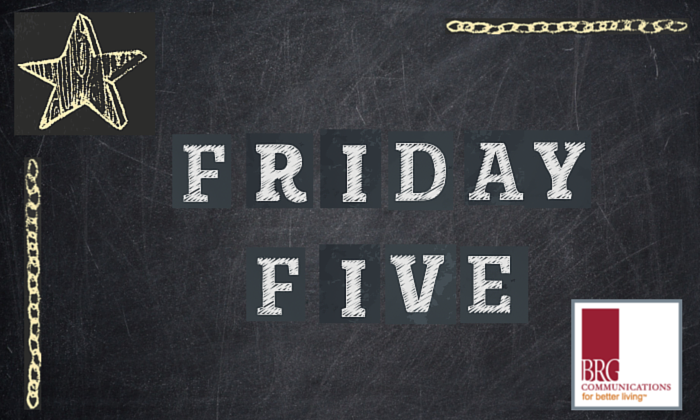 27 Apr

The Friday Five: April 27, 2012

Happy Friday! Welcome to the BRG Communications Friday Five. Each week we share some of the more important, interesting and heartwarming public relations and social media stories of the week.
Twitter made an offer on Instagram
A few weeks ago we talked about Facebook's acquisition of Instagram in our Friday Five. It was surprising that a company valued at $500 million one week would be purchased for $1 billion the next. This week, VentureBeat reported that rumors have surfaced that say very shortly before the Facebook deal was made, Twitter made an offer in the hundreds of millions for Instagram.
Four ways you're probably not using LinkedIn
PR News shared four ways you're probably not using LinkedIn for PR. The list is a must read for all PR pros. We especially agree that LinkedIn Answers are an underutilized LinkedIn tool that can provide value for PR Pros.
Is the Pinterest growth curve leveling off?
USA Today reported that the Pinterest growth curve might be leveling off. While data from ComScore showed that unique visitor impressions continue to rise, AppData said that the number of Pinterest users connected to Facebook have declined to 8.3 million from 12.2 million in the last 30 days. It will be interesting to watch these stats over the next few months.
Lots to "like" about Kraft's latest Likeapella
On Tuesday, 4,632 people liked Kraft Macaroni and Cheese's Facebookstatus that read: ""LIKE" this post, and you never know what may happen." Today Kraft put out a "Likeapella" to thank and name all of the fans that "liked" the status. The video is hilarious and creative. On a deeper level, we love the basic fan appreciation. We always tell clients that recognizing Facebook fans is an A+ move in community engagement. It will be interesting to see if this video goes viral, as we suspect it will.
President Obama slow jams the news
PR pros know that there are many ways to share news. This week President Obama wanted to share his efforts to stop Congress from allowing interest rates on government-subsidized student loans from doubling. To do so, he went on Jimmy Fallon and slow jammed the news. Check it out:
Have a great weekend everyone!